Welcome to US-Mollards!
12 December 2011 - Crizzy Lists Lives!
Chrizzy lists Returns! See you in a couple of weeks! Until then!
5 January 2011 - Crizzy Lists Go Away for yet another year...
I heard this year was a success. Next year we will unveil some Crizzy list improvements, until then!
28 November 2010 - Crizzy Lists Go Away... and Come Back Again
1 May 2010 - Crizzy Lists Go Away!
Crizzy Lists are offline.
Until Next Year!
13 December 2009 - Crizzy Lists Lives!
I have managed to mess up the formatting, bear with me as I try to fix it. Otherwise it works fine.
25 May 2008 - A's Game
Wentto the ball game this afternoon, fun was had by all. And, amazingly enough, the A's actually won! Sombody send me some pictures and I will post them up.
8 April 2008 - Mom Update
From Dad, "Your Mom is making great strides in her walking (your words not mine) and today they started her on going up and down steps... She was out of bed a long time today, sitting in the wheelchair and in the recliner, and went for dinner in the Dining Room. Two sessions of Physical Therapy today, the second one they walked her round the building."
Soundslike things are going very well! Paul
6 April 2008 - Mom Update
Mom had hip replacement surgery last Tuesday morning and five days later, is now well into recovery. She was in the hospital at Stanford until Friday afternoon when she was moved over to a nearby rehabilitation facility. The Rehab facility is more like a hotel than anything else and is quite swanky. Mom is quite content with all the tea she could want. Mom has been up and moving around more and more each day. The first couple of days were rather difficult, but over the weekend she has made great strides in her recovery. She was able to get out of bed on her own yesterday and walk around a little bit. I expect that she will be home during the next week. She looks great and is in excellent spirits. If you would like to send flowers or a card or call, please contact us through the website (webmaster@usmollards.com), dad's email or phone.
6 April 2008
Well,happy new year everyone! Wanted to post some items, mom and dad went up to Fairbanks Alaska at the end of March and had a wonderful time viewing the northern lights. They had at least three nights of excellent viewing. The temperatures were cold but they bundled up adequately. Well, mom could have used something to keep her nose and cheeks warm, evidently the cold really got you on any exposed surface! They were very impressed, every time they talk about it they just overflow with excitement. It must have been great! If the picture does it any justice, then it was definately great! What a fantastic picture (click for larger).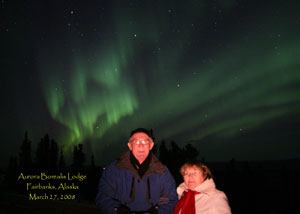 30 October 2007
Goodsized earthquake here. Mom and dad are doing OK, dad evidently did not feel compelled to move out of his chair! lol! V and I are ok, a couple of of things on the floor. . Panic over, thanks everyone!
27 October 2007 - Christmas list updates -
Yes, the wild and whacky snoman is back. The christmas list site is up and semi-functional. Feel free to start populating the lists. Instructions are on the site, have fun
6 May 2007 - Brandon Wins!
Chrisjust informed me that Brandon managed to win his class race last night! He has racked up an impressive first season, two seconds a first and a fourth place finish. Very good for a Rookie! Pictures coming... His next race is on June 2nd. You can read all about the results at King's Speedway later in the week when they get them up. Brandon's class is IMCA Stock.